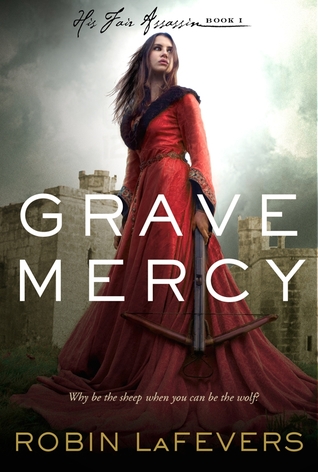 Series:
His Fair Assassin #1
Genres: YA, Fantasy, Historical, Romance
Published: April 3rd 2012 by Houghton Mifflin Harcourt
Why be the sheep, when you can be the wolf?
Seventeen-year-old Ismae escapes from the brutality of an arranged marriage into the sanctuary of the convent of St. Mortain, where the sisters still serve the gods of old. Here she learns that the god of Death Himself has blessed her with dangerous gifts—and a violent destiny. If she chooses to stay at the convent, she will be trained as an assassin and serve as a handmaiden to Death. To claim her new life, she must destroy the lives of others.
Ismae's most important assignment takes her straight into the high court of Brittany—where she finds herself woefully under prepared—not only for the deadly games of intrigue and treason, but for the impossible choices she must make. For how can she deliver Death's vengeance upon a target who, against her will, has stolen her heart? (+)


The Review:
A book I just couldn't get enough of. Simply outstanding.
Seventeen-year-old Ismae has always been treated cruelly by people for bearing a scar that marks her a daughter of St. Mortain, the saint of Death. After her marriage is when she is rescued from these cruel treatments by a priest who then helps her get to the convent of St. Mortain. There she is
trained to become a handmaiden of Death.
Her most recent and important assignment takes her to the high court of Brittany where she finds herself facing - and involved in deadly games and forbidden feelings.
The starting of the book was not one I would account for promising. I wasn't hooked or even slightly interested by how everything began especially with all the religious elements. So I was almost certain I would dislike the rest of it. That was not quite so. After a few chapters or maybe even a few pages, was when things started to get more interesting. And so I was hooked and didn't rest until I finished it. One thing I love about these historical fiction based fantasy books is their writing style, and I have noticed that in similar good books. I find it to be extremely beautiful and rich in its descriptions. What more is that in
Grave Mercy
the plot and the characters were amazing on their own, so with the addition of good writing this book climbed even higher.
I loved Ismae.
Recently, I find myself more involved in the side characters more than the main characters so it was quite a pleasant surprise when I found Ismae to be equally likable and amazing. She was ruthless, trained in the arts of seduction, combat and poison. The best thing was that it was not all talk.
We see her at action
and she deserved the title of a strong female lead.
When Ismae meets Duval, she begins to doubt the teachings of the convent. I loved Duval a lot too. He was smart and I really loved how he was good at sketching out plans and carrying them out. That being my feelings towards both Ismae and Duval, it is no wonder that I loved their relationship. It was slow and one word I can describe their relationship with is:
Fire
. The chemistry and sexual tension between the two was intense.
If you're a fan of
Poison Study
I believe you would find this book interesting. It involves similar elements regarding poison and the way they effect the body. I was more than happy to catch each detail thrown my way. One must agree that there is something extremely fascinating about assassin nuns dealing with poison.
I was very disappointed to hear that the sequels will not center Ismae's character, but two other girls from the covenant. I love her so much, I don't think I am ready to let her go yet. And as that, I believe I won't be continuing the series anytime soon.
In conclusion
: If you want a good fantasy book with historical elements, this is your book. Prepare for assassin nuns, seduction, poisons, great characters, intense chemistry, and beautiful writing.