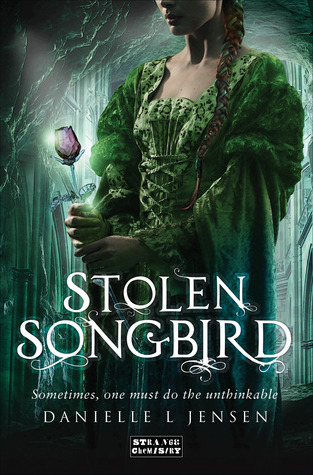 Series:
The Malediction Trilogy #1
Genres:
YA | Fantasy | Romance
Published:
April 1st 2014
Publisher:
Strange Chemistry
Book:
GoodReads
|
Amazon
|
Barnes & Noble
Author:
GoodReads
|
Twitter
|
Website
Rating:
For five centuries, a witch's curse has bound the trolls to their city beneath the ruins of Forsaken Mountain. Time enough for their dark and nefarious magic to fade from human memory and into myth. But a prophesy has been spoken of a union with the power to set the trolls free, and when Cécile de Troyes is kidnapped and taken beneath the mountain, she learns there is far more to the myth of the trolls than she could have imagined.
Cécile has only one thing on her mind after she is brought to Trollus: escape. Only the trolls are clever, fast, and inhumanly strong. She will have to bide her time, wait for the perfect opportunity.
But something unexpected happens while she's waiting – she begins to fall for the enigmatic troll prince to whom she has been bonded and married. She begins to make friends. And she begins to see that she may be the only hope for the half-bloods – part troll, part human creatures who are slaves to the full-blooded trolls. There is a rebellion brewing. And her prince, Tristan, the future king, is its secret leader.
As Cécile becomes involved in the intricate political games of Trollus, she becomes more than a farmer's daughter. She becomes a princess, the hope of a people, and a witch with magic powerful enough to change Trollus forever.
Review:
It's about time I counted my lucky stars Stolen Songbird happened to be my first troll book, because after this, I'm pretty sure I wouldn't mind a bit of trolls in my life.
I'm not sure what I was expecting when it came to this novel. Never having read a troll book previously, my mental description of a troll was pretty much "that dumb, scary freak who lives under the bridge." When I read the bit in the introduction which goes as follows:
she (the main character) begins to fall for the enigmatic troll prince to whom she has been bonded and married
you can imagine how horrified I would have been.
But I had faith.
The story is, for the most part, set in Trollus, a dark underground world. Great world-building is not rare in the Fantasy world, but a few are so gripping that you feel the magic in your bones.
One thing about the book I wish I could experience all over again would be its world and the magic.
Beautifully crafted and presented, no amount of words could describe how it felt. It's something you must experience, alongside Cécile who uncovers the beauty of Trollus, long hidden by brutality and darkness.
Troll politics played a major role along with magic and history in this book.
I loved the prophecy aspect of the book. While prophecies are definitely over-used in the Fantasy world, it doesn't mean I don't love them. According to the prophecy, a girl with red hair and the voice of an angel will be the one to break the curse of a w itch that traps the Trolls under the mountains. Cécile fits the description, and this is why she is kidnapped and sold to the Trolls.
Cécile was a fantastic main character.
We often meet supposed strong female characters who maintain their titles as strong heroines - until they meet the love interest. Cécile grew on me, and I liked her a lot but after she fell in love with the troll prince, she was more a main character in love with someone rather than the strong, tough girl we meet at first. Even with that, she was remarkable with how she could put on good fight even with words.
Tristan was just as likable.
His sarcasm was what I liked about him, and we slowly get to see a complex side to him.
This is mostly thanks to the alternative POVs of him and Cécile. Tristan served to be a loyal character who had several qualities of a future king. Even with his sarcasm, he never ended up an asshole.
Both the characters were smart - mostly, witty and stubborn in their own ways which makes way for some crazy arguments and kickass exchange of dialogues
- that I loved. Their relationship was slow, but felt fast to me since I practically flied through the chapters. However, since this is going to be a series, I all but wonder if the author will be able to maintain the chemistry between the two characters. Often, when the characters unite early into the series, it ends up turning a bit dull. Hopefully, Stolen Songbird will be an exception.
The book ended on a very surprising note.
It wasn't exactly a cliff-hanger, and doesn't really come out of the blue, but I am in desperate need of the next installment.
All in all, this was a magical read with all sorts of things that had me mesmerized starting page one. Some parts, I admit, turned a bit boring and dull at times
but it always picked up in the end.
If you're looking for a good fantasy book with the right amount of magic, world building, politics, romance and swoons, this might be the book for you.