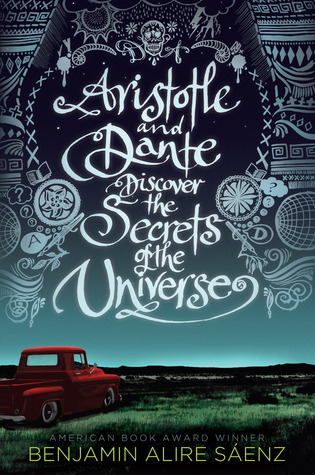 By:
Benjamin Alire Sáenz
Genres:
YA | Contemporary | Romance
Published:
February 21st 2012
Publisher:
Simon & Schuster Books for Young Readers
GoodReads
My rating:
4/5
A lyrical novel about family and friendship from critically acclaimed author Benjamin Alire Sáenz.
Aristotle is an angry teen with a brother in prison. Dante is a know-it-all who has an unusual way of looking at the world. When the two meet at the swimming pool, they seem to have nothing in common. But as the loners start spending time together, they discover that they share a special friendship—the kind that changes lives and lasts a lifetime. And it is through this friendship that Ari and Dante will learn the most important truths about themselves and the kind of people they want to be.
The Review
The writing was beautiful in its simplicity, and it was never dramatic or overly figurative. It was simple in the sense that the words went straight to the mind and heart. It was laid and crafted together perfectly.
"I bet you could sometimes find all the mysteries of the universe in someone's hand."
The book doesn't have a particular plot that it follows, it's simply about two boys discovering things about their life and each other. The events aren't laid out one after the other, but usually after long stretches of time from different periods of Ari and Dante's life. If you're not someone who is used to this distinctive type of storytelling, it may take some getting used to.
The best thing about the book? Ari and Dante. The two are very different in their personalities but each was likable in their own way - Ari, an angry teen and Dante, who had a rather peculiar view of the world. It was truly amazing seeing two very different people form such a deep, strong bond. Their friendship is the main plot, objective, and the idea the whole book is based on.
If you've ever been a teenager you might relate to the things the two boys go through - the anger, the questioning, wondering and most importantly, the learning. The teenage years is full of making decisions without past experience. Not all of Ari or Dante's actions and emotions were justified, and you could look at it from all points of view - and that's what made it realistic.
We only get Ari's perspective, although I would have preferred Dante's POV too. Naturally, due to this, I connected with Ari more as he ended up being easier to relate to. Still, the way Ari saw Dante made me fall in love with him too. So between Ari and Dante, I wanted both.
Although it might seem like the whole universe of the book revolves around these two boys alone, that's not it. Yes, they were probably the spotlight, but there is a lovely cast of supporting characters as well. I loved both the families, who were quite different from one another.
All in all?
This is one of those rare gems. It was so beautiful, so amazing, so magnificent and oh, curse the limits of my vocabulary. This is a book that will have you laughing and crying and smiling until your cheeks hurt. I highly recommend it.
"We all fight our own private wars."