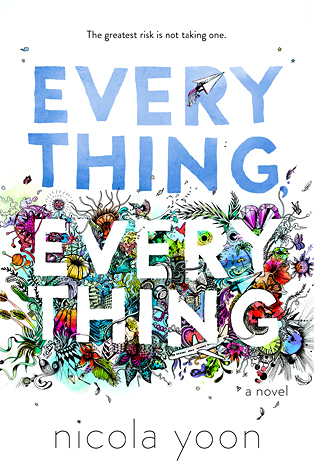 Genres:
YA | Contemporary | Romance
Published:
September 1st 2015
Publisher:
Delacorte Books for Young Reader
My rating:
My disease is as rare as it is famous. Basically, I'm allergic to the world. I don't leave my house, have not left my house in seventeen years. The only people I ever see are my mom and my nurse, Carla. But then one day, a moving truck arrives next door. I look out my window, and I see him. He's tall, lean and wearing all black—black T-shirt, black jeans, black sneakers, and a black knit cap that covers his hair completely. He catches me looking and stares at me. I stare right back. His name is Olly. Maybe we can't predict the future, but we can predict some things. For example, I am certainly going to fall in love with Olly. It's almost certainly going to be a disaster
Actual rating: 2,5
ARC provided by
Netgalley
.
"You can't predict the future. It turns out that you can't predict the past either. Time moves in both directions - forward and backward - and what happens here and now changes them both."
Believe me, no one is more surprised by this rating than me. 100 pages into the book I was sure I would give it at least 4 stars, but then the second half happened.
So first things first, I knew from the beginning what to expect from this book. I knew it would be a complicated love story, that there will be insta-love and many cheesy lines. I've read some review before requesting it on Netgalley to see if I would like it.
And under normal circumstances I wouldn't get the book, because of the things mentioned above.
But all the review were so positive and my curiosity won me over.
Plus, it isn't the usual complicated romance. The protagonist Madeline has SCID, she's basically allergic to the world. She's been locked up in her home for 18 years, and the only people she sees are her mom and her nurse.
Then the insta-love happens. A familiy moves into the house next to them, and of course there's a gorgeous boy her age, Olly. She starts to kind of stalk him and eventually they exchange e-mails and start seeing each other.
I really loved their conversations, as cheesy as they were. I loved Madeline as a protagonist, with her desire for something more. I loved how complex and diverse the characters were. I loved the magical writing and the cute little images and graphics in between.
I just absolutely loved the first half of the book.
Then
the thing
happened, and ruined it for me.
BEWARE: SPOILERS AHEAD! SPOILERS AHEAD!
The thing
that ruined the book for me was the last plot twist.
Madeline discovers that her whole life is a lie. She isn't sick. Her mother lied to her.
Oh man. This is just bullshit. The author build this amazing concept with Madeline's disease, her character and her relationship with Olly resolve on this, and then it all happens to be a lie?
I don't know how about you, but I find this twist rather cheap. It's as if the author didn't know how to finish what she started.
What possible outcome is there for a girl with SCID? One that falls in love with her neighbour?
That's why I picked the book up. I wanted to read about this and see how it plays out.
What I got was a beautifully written book with great characters and an interesting concept ruined by a lazy and bad-written ending.