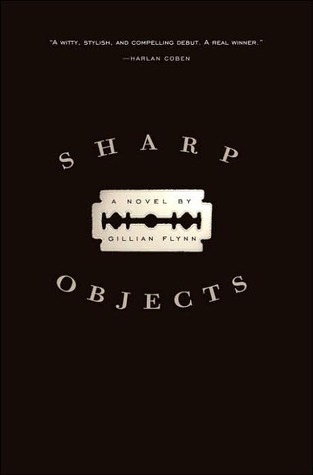 Genres:
Mystery | Thriller
Published:
September 26th 2006
Publisher:
Broadway Books
My rating:
Fresh from a brief stay at a psych hospital, reporter Camille Preaker faces a troubling assignment: she must return to her tiny hometown to cover the murders of two preteen girls. For years, Camille has hardly spoken to her neurotic, hypochondriac mother or to the half-sister she barely knows: a beautiful thirteen-year-old with an eerie grip on the town. Now, installed in her old bedroom in her family's Victorian mansion, Camille finds herself identifying with the young victims—a bit too strongly. Dogged by her own demons, she must unravel the psychological puzzle of her own past if she wants to get the story—and survive this homecoming.
I stayed up until 6 am to finish this book.
I regret nothing.
See, I get scared easily. I don't watch horror movies, because I end up getting nightmares. I'm afraid of the dark.
So reading this book through the night was kind of stupid of me. Nevertheless, I couldn't put it down, because I was so scared but also captivated by the story.
First things first: I picked this book up because of my endless love for
Gone Girl
. I'm still in love with the messed up story and the complex characters. It's one of my favourite books.
Naturally I wanted to read more of
Gillian Flynn
's books. I wanted to read more about female villains. So after finishing
Gone Girl
I immediately got her other two novels.
They've been sitting on my shelf since then, I still needed some time to breath after Gone Girl
. And yesterday I picked up
Sharp Objects
on impulse. Or a part of me was just craving for a creepy story.
So there I was, starting this book at midnight, not thinking about the consequences (like me being tied to my bed, because I was too scared to get up).
I was hooked the moment I read the first page, and didn't move until I finished it. I couldn't turn the pages fast enough, I just wanted to devour the book. The story was so gripping and thrilling and full of suspense, the writing was as breath-taking as the storyline.
The plot-twists messed with my head pretty bad, but I loved every minute of it.
Now, the book has one flaw: it's pretty slow at the beginning. But I still enjoyed it, because of the protagonist, Camille.
Living this story through her mind was one of the most uncomfortable, yet oddly refreshing and poignant experiences in my life. And honestly, I find her even more interesting than
Gone Girl
's Amy Dunne.
Here's the moment of truth: I dare to say, that
Sharp Objects
is better thank
Gone Girl
.
It is way darker, the atmosphere more somber and the story and villain more messed up.
I still can't wrap my head around the story and it's solution. It's simultaneously disturbing and genius.
It's the kind of book that will stay with me for a while, my mind keeps drifting back to the story and I'm full with adrenaline again and want to know more about what happened.
Was this book worth the nightmares I will probably get for the next few weeks? Yes, definitely.