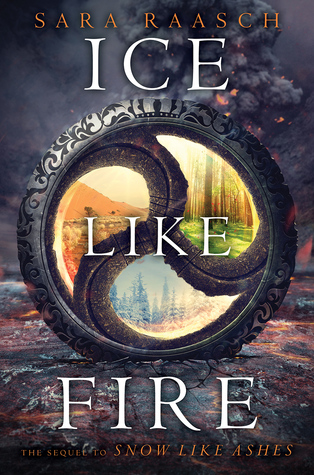 Series:
Snow Like Ashes
Genre:
YA | Fantasy
Publisher:
Balzer + Bray
My rating:
It's been three months since the Winterians were freed and Spring's king, Angra, disappeared—thanks largely to the help of Cordell. Meira just wants her people to be safe. When Cordellan debt forces the Winterians to dig their mines for payment, they unearth something powerful and possibly dangerous: Primoria's lost chasm of magic. Theron sees this find as an opportunity—with this much magic, the world can finally stand against threats like Angra. But Meira fears the danger the chasm poses—the last time the world had access to so much magic, it spawned the Decay. So when the king of Cordell orders the two on a mission across the kingdoms of Primoria to discover the chasm's secrets, Meira plans to use the trip to garner support to keep the chasm shut and Winter safe—even if it means clashing with Theron. But can she do so without endangering the people she loves? Mather just wants to be free. The horrors inflicted on the Winterians hang fresh and raw in Januari—leaving Winter vulnerable to Cordell's growing oppression. When Meira leaves to search for allies, he decides to take Winter's security into his own hands. Can he rebuild his broken kingdom and protect them from new threats? As the web of power and deception weaves tighter, Theron fights for magic, Mather fights for freedom—and Meira starts to wonder if she should be fighting not just for Winter, but for the world.
Like Sara Raasch said in the acknowledgements, sequels are hard. And I totally feel you Sara. It seems like most of the sequels this year failed me.
Unfortunately, so did Ice Like Fire.
Snow Like Ashes was one of my favourite books of 2014. Though it was filled with clichés and a stupid love-triangle I couldn't help but love it.
So I'm super sad about Ice Like Fire. I expected so much more.
It wasn't all bad. The plot was quite interesting, but only in the last 30% of the book, and the ending was full of twists I didn't see coming. I'm sure the final book will be pretty great plot-wise.
The problem is that the whole book could have been much shorter, the issues could have been solved faster. Instead it was dragged out, and therefore the story was super slow and boring at times. There were just too many chapters where nothing was happening.
Comparing the sequel to the first one, Ice Like Fire seems ridiculous. Whereas SLA was action-packed and gripping SLA was just a decent build-up for the next book. On it's own it was dull and uneventful.
One of the reasons I loved SLA was Meira. She was such a badass and strong character. She had flaws, one of them is making rash and stupid decisions, but I still loved her.
In ILF my beloved protagonist just vanished. She was replaced with some flat and whinny girl who made even more stupid decisions.
Sara Raasch introduced a lot of new characters in this book, but she didn't really explore them much and I just didn't care about them.
In the end, the only thing I enjoyed about this book were Mather's chapters. If someone would have told me this a year ago, I would have laughed in their face, since I disliked him a lot in the first book.
However, in the sequel he was the only smart character who actually did something. Sure, he was moping around a lot, but not as much as Meira. His chapters were much more interesting than hers.
In conclusion, I didn't like this book. If it would have been at least 100 pages shorter, I would have rated it with 4 stars, but as it was too dragging, I can't go higher than 2.
I'll still read the final book, just because I'm curious to how it will wrap up.