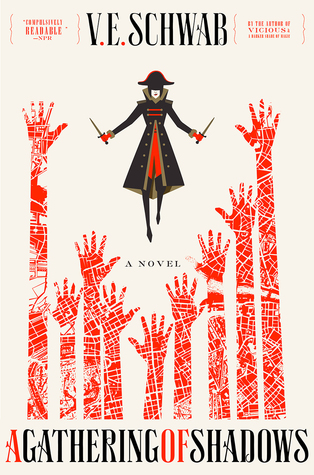 Series:
Shades of Magic #2
Genre:
Fantasy
Publisher:
Tor
My rating:
Four months have passed since the shadow stone fell into Kell's possession. Four months since his path crossed with Delilah Bard. Four months since Rhy was wounded and the Dane twins fell, and the stone was cast with Holland's dying body through the rift, and into Black London. In many ways, things have almost returned to normal, though Rhy is more sober, and Kell is now plagued by his guilt. Restless, and having given up smuggling, Kell is visited by dreams of ominous magical events, waking only to think of Lila, who disappeared from the docks like she always meant to do. As Red London finalizes preparations for the Element Games—an extravagant international competition of magic, meant to entertain and keep healthy the ties between neighboring countries—a certain pirate ship draws closer, carrying old friends back into port. But while Red London is caught up in the pageantry and thrills of the Games, another London is coming back to life, and those who were thought to be forever gone have returned. After all, a shadow that was gone in the night reappears in the morning, and so it seems Black London has risen again—meaning that another London must fall.
*awkward silence* What do you mean, I haven't updated this blog in over two weeks?
*cricket sound* Oh, right. Well. School is keeping me busy. And I tend to start lots of new tv shows and never finishing them. But hey, look! The sequel to my favourite book came out!
Enjoy this weird review, or at least pretend to, for my sake. It's only polite. (I am kidding. Kind of.)
It's always been harder for me to write reviews for books that I liked than for the ones I hated.
There is only so many times I can say amazing world-building! and such unique characters! without it feeling over-used. It's rather hard to describe my love for my favourite books.
And it's even harder for me to review A Gathering of Shadows, because it may be my absolute favourite book so far.
Until yesterday A Darker Shade of Magic has been my favourite book. I really didn't think that anything could get better than it, but of course Victoria Schwab proved me wrong.
I really don't get how she does it. Every single page of this book was perfect. There is nothing, absolutely nothing that I didn't like or that bothered me. I wasn't bored once, the story kept me on edge all the 500 pages through. *insert cliche of me not being able to turn the pages fast enough*
Victoria's writing and story-telling isn't just compelling. It's... there is literally no word for it. Imagine your favourite song, how it flows in one magical piece. That's what this book was like for me. Somehow Victoria pieced this story perfectly together, where I couldn't stop reading it, and couldn't stop feeling.
The best books for me are the ones that make me feel something. And in AGOS there wasn't a single chapter I haven't felt the magic, or happiness, sadness, anger or love. I felt every single emotion the characters were going through.
Honestly, it was a surreal experience, I felt like I was in this amazingly developed world.
Schwab's characters aren't just well-written, they are alive. Or well, at least they feel alive.
I am pretty sure Schwab made a deal with some supernatural power, because her writing can't be human. I've never read something so fascinating. (Wow, this sounds so cheesy and dumb. Someone stop me.)
Now, AGOS was a more character-driven story than ADSOM. And I couldn't be happier about it, since I would sell my first-born for these characters. Old characters underwent marvelous character-development, new characters were introduced who I fell in love with. Ships sailed, plot-twists destroyed me and lots of tears fell.
Lots. Of. Tears.
You see, Schwab's books haven't had a cruel cliff-hanger until now. AGOS has probably one of the most painful endings I have ever read. When I finished the book I was crying and screaming and throwing things around the room. It was not a pretty image. Thank god my mom is already used to this or she would have probably called an ambulance.
But honestly? Despite the pain, the ending was perfect.
Schwab ended it on a marvelous note, leaving hundreds of questions open and the readers filled with a desperate need for the next book. *applause* *hysterical crying*
I will count the days until I get to know the rest of the story. It will probably be even better than the first and second book combined. It will crush all my feelings, it will be the hardest thing to finish my favourite story on this planet (yes, maybe there are aliens who have an even better story, who knows), but I can't wait.