WOHO, we did it! We survived the first month of 2016. I hope you all had an amazing January. For me it was a rather busy month with school and exams, so I didn't get to updating this blog, but now I'm on break and thought why not share my top 9 most anticipated books of 2016.
This list has been changing a lot for the past few months since I kept discovering new amazing books and some other sequels (like the next Throne of Glass book) just don't interest me anymore. So here we go with my Top 9 most anticipated books of 2016.
1. Kings Rising by C.S. Pacat


Kings Rising is the last book in the Captive Prince trilogy and it actually already came out on the 2nd of February. My copy sadly did not arrive yet and I'm just dying with all the goodreads updates of my friends and trying to avoid the spoilers. The last book ended with a huge cliffhanger and I need this book right now.
I read the first two books about two weeks ago and immediately fell in love with them, the characters are just amazing.
Captive Prince is a historical fiction M/M romance, and if you're considering to read this don't forget to check the trigger warnings (there are a lot of them!) and stay safe.
There are also going to come out two novellas I think, which I also can't wait for.
2. The Winner's Kiss by Marie Rutkoski
Again, The Winner's Kiss is also the last book in an amazing trilogy, and the last book also ended with a cliffhanger. It seems that authors do enjoy torturing us.
Anyways, The Winner's Trilogy is on my Top 10 of all time favourite books, since the writing is breath-taking and the characters are all so unique! Plus, my OTP of OTP's is Kestrel x Arin, and I can't wait to see how their story progresses.
I actually requested and ARC for this, since I already got one for the second book, but so far I haven't heard back from the publisher. My fingers are crossed!

3. Crooked Kingdom by Leigh Bardugo
We don't even have a cover for this book yet, so I'll just leave the cover of the first one here.
If you haven't read Six of Crows yet, do me a favour and pick this book up as soon as possible. This fantasy novel has some of the best-developed characters I've ever read about and the plot had me on edge the whole time.
I can't wait to see what Leigh Bardugo has in store for us. I only hope she won't completely wreck me. I need all my Dregs to be happy.
4. Half Lost by Sally Green
I don't know how many of you have read the Half Life trilogy, but I would recommend it to anyone and their sister! If you enjoy modern day witches and angsty teenagers plus a bisexual main character, you should definitely get these books.
If you have read them you will understand my pain and need for the last book. It better end well or I will have to kill someone.

5. The Song Rising by Samantha Shannon

Again, the cover for the third book in The Bone Season series wasn't released yet, but I bet it's going to be as pretty as the previous ones.
This is a high-fantasy/sci-fi dystopia set in 2059. It has some great world-building and I got surprised by plot-twist after plot-twist. The cliffhanger get worse with every book but I still love this series so much. Even if The Song Rising ends with a horrible cliffhanger again I will write Samantha a thank you card for all the tears.
6. Furthermore by Tahereh Mafi
The cover for this novel was released a couple of days ago and I am swooning, it's stunning!
I usually don't read many middle grade books, but to be honest, I would read anything by Tahereh Mafi. Her writing is just so gorgeous! I completely fell in love with it in the Shatter Me trilogy and I can't wait to get bewitched by her lyrical writing again.
7. This Savage Song by Victoria Schwab
I have already mentioned it more than once that Victoria Schwab is my favourite author ever. I have read and loved almost all her books so far and I can't imagine not loving this one either.
I don't even know what this will be about, something about monsters and such, and I won't read the synopsis because I just want to dive right into it!
8. A Gathering of Shadows by Victoria Schwab

Don't you love it when your favourite author brings out not only one but two new books in a year? I know that I do.
A Gathering of Shadows is the sequel to the amazing A Darker Shade of Magic, which was my favourite book of 2015. I loved the first book so much and it was just utterly perfect. I can't imagine how the sequel can get any better, but the way I know Victoria it will definitely overcome all my expectations. I can't wait to be swept off my feet by this beautiful book.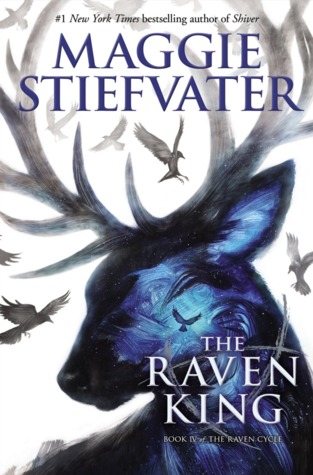 9. The Raven King by Maggie Stiefvater
My most anticipated book this year just has to be The Raven King. With all the changes with the release date we've waited long enough I think.
On one hand I can't wait to see how this series ends, on the other hand I'm not ready for all the pain that will come with it. I'm not ready to say goodbye to these characters and the magical story. There are so many questions that have to be answered, I can't imagine how this will all fit into one book. The waiting is killing me guys.
I have two main wishes for this book:
1) PYNCH to get canon and therefore Adam Parrish being canonically bisexual.
2) Everyone to be happy in the end. I won't survive otherwise.
So yeah, that were my most anticipated books of 2016. What about you guys? What are some of the books you can't wait for? Let me know! :-)