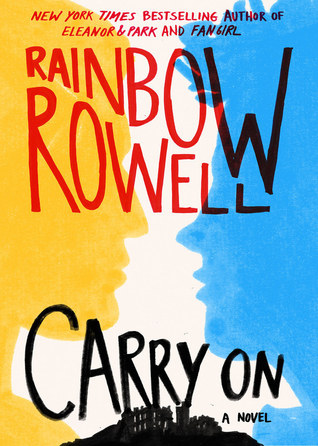 Genre:
YA | Fantasy | Romance
Publisher:
St. Martin's Griffin
My rating:
Simon Snow is the worst chosen one who's ever been chosen. That's what his roommate, Baz, says. And Baz might be evil and a vampire and a complete git, but he's probably right. Half the time, Simon can't even make his wand work, and the other half, he sets something on fire. His mentor's avoiding him, his girlfriend broke up with him, and there's a magic-eating monster running around wearing Simon's face. Baz would be having a field day with all this, if he were here—it's their last year at the Watford School of Magicks, and Simon's infuriating nemesis didn't even bother to show up. Carry On is a ghost story, a love story, a mystery and a melodrama. It has just as much kissing and talking as you'd expect from a Rainbow Rowell story—but far, far more monsters.
Actual Rating: 3,5
This isn't a bad rating, not really. I enjoyed this book a lot. It's just, with all the hype going around, I expected something more
spectacular
.
All my friends adore this book and 99% of the reviews I've read have been praising it to no end. I get why people enjoyed it, but I can't get the hype.
I mean, yes, the characters were amazing and super entertaining. The romance was super cute and I didn't find it
that
cheesy. I loved Baz's chapters especially, and in the end the book is just exactly what I love; two magical idiots in love with each other plus some kind of mysterious quest. But I must say the characters and romance, plus the writing, was the only thing I enjoyed.
The plot, not so much. The beginning was super dragging and boring. I nearly DNF'ed it. When the Baz finally showed up I nearly cried in relief, because some things finally started happening. Plus, I could enjoy Baz angsting over him being hopelessly in love with Simon.
(His chapters made me so emotional, oh my god. Rainbow Rowell did an amazing job with Baz's characterisation.)
And while yes, there was some kind of plot and random mysterious chapters, it didn't really grip me.
In the end I didn't continue reading it because I was desperately waiting for the solution, I just wanted some more Simon/Baz fluff. (I mean, the kissing scenes from Baz POV are to die for. I love this idiotic vampire so much.) (Can someone also please tell me why it is so hard for some authors to say the word bisexual? I just don't get it. This is one of the things that annoyed me to no end.)
Sometimes the plot was also pretty predictable, I saw the twists coming from a mile off, so the mystery wasn't a mystery for me at all.
So since the plot-line on it's own didn't captive or interest me at all I'm reducing the rating to 3,5 stars. I'd love to give it 4 stars, really, but I just can't do it.
All in all I still enjoyed this book very much, it made me laugh and cry, but in the end the lack of plot and real world-building annoyed me. If Rowell would have developed this further this book would be nearly perfect, at least for me.