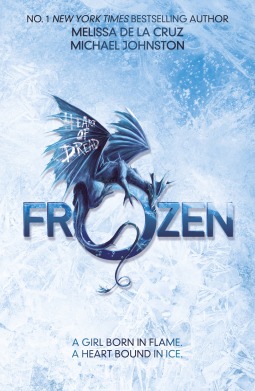 Series:
Heart of Dread #1
Genres:
YA | Fantasy | Dystopia | Sci-fi | Romance
Published:
October 2nd 2014 by Orchard Books
ARC
provided via Netgalley
From New York Times bestselling author Melissa de la Cruz and Michael Johnston comes this remarkable first book in a spellbinding new series about the dawn of a new kind of magic.

Welcome to New Vegas, a city once covered in bling, now blanketed in ice. Like much of the destroyed planet, the place knows only one temperature—freezing. But some things never change. The diamond in the ice desert is still a 24-hour hedonistic playground and nothing keeps the crowds away from the casino floors, never mind the rumors about sinister sorcery in its shadows.

At the heart of this city is Natasha Kestal, a young blackjack dealer looking for a way out. Like many, she's heard of a mythical land simply called "the Blue." They say it's a paradise, where the sun still shines and the waters are turquoise. More importantly, it's a place where Nat won't be persecuted, even if her darkest secret comes to light.

But passage to the Blue is treacherous, if not impossible, and her only shot is to bet on a ragtag crew of mercenaries led by a cocky runner named Ryan Wesson to take her there. Danger and deceit await on every corner, even as Nat and Wes find themselves inexorably drawn to each other. But can true love survive the lies? Fiery hearts collide in this fantastic tale of the evil men do and the awesome power within us all.
ARC provided via netgalley in exchange for an honest review.
What got to me about this book was its pretty blue cover and look! There went another bad case of judging a book by the cover. This book was such a big ball of mess, I'm not even sure
what
to talk about.
Let's begin with why it's such a big ball of mess, yes? You know what every mom tells their five-year-old kid who just won't shut up about a new toy? Yeah, that they can't have have everything. I have never given much thought to that saying, but today, I have found out that you really cannot have everything. There's some invisible line somewhere and crossing it would do more harm than good.
That's what happened with this book. Genre-mash-up might not be my thing after all ,because there's literally EVERYTHING thrown here and all of it hit me like thousand slaps. (Who dare slap me?!) First, it comes off as a Dystopian novel, and I was cool with that because that is what I was expecting. Then the Fantasy element creeps in just a little (meanwhile I'm pulling on a pokerface). But then it's
more
Fantasy than Dystopian. And suddenly...wait for it...Sci-fi! But it was definitely Dystopia? And..Fantasy?
And that was when I finally decided that I didn't care anymore.
Really, I believe the genre-mash-up thing could have been pulled off, and it surely must have been done before. But there was so much to take in. First there were the mages, and then came along the warlocks grinning from ear to ear. And suddenly, there are pirates, "smallmen", dragons, zombies that are called "thrillers" for some reason, and I don't even remember the rest. But I assure you, there was more and it was overwhelming.
The world-building sucked. Although that might sound a bit harsh on my part, it really did suck. With all the genre-mashing-up, everything was bound to end up being over-crowded and packed. I almost needed breathing space. The worst thing? Most of it didn't even make sense. It's either that, or my brain was malfunctioning because the book could go on about people who are "Marked", "The big freeze", "The flood" (?), and none of it would make ANY freaking sense as of to how the hell it even fit into the story.
Written language had apparently gone through a big evolution. What it has evolved into is described as an,
"amalgam of symbols and acronyms". There's also some crappy old book around in this dystopian/post-apocalyptic world titled
XLNT <3 LULZ
and I was expecting a XOXO, <3 GSPGURL at any given moment.
The en--
Huh? What do you mean characters...What..? OH! Yeah, the characters. Pretty much equivalent to pieces of driftwood. Even though the characters narrated the book, with two POVs if you would like something more specific, I felt no connection to them. They were just the bridge between me and the book's world, and other than that, our relationship was nonexistent. And so, they fell off my priority list at some point.
I tried. I tried to scrape out even a teensy weensy bit of SOMETHING as long as it was something - anything I liked about the book, but I had no success.
Really not sure what she says here but could pass off
for "mister BEAN?" very well. Wouldn't it?
All in all, this is a post-apocalyptic (Dystopian?) world where people are starving which also has, you know, gas and lots of food and stuff 'cause we cool like that here <3 LULZ.
Recommended? No, not really.