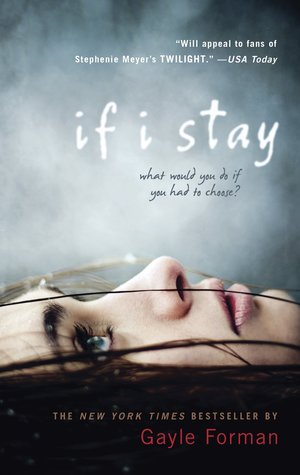 Series:
If I Stay #1
Author:
Gayle Forman
Genres:
YA | Contemporary
Published:
April 6th 2010 by Speak
The critically acclaimed, bestselling novel from Gayle Forman, author of Where She Went, Just One Day, and the forthcoming Just One Year.
On a day that started like any other, Mia had everything: a loving family, a gorgeous, admiring boyfriend, and a bright future full of music and full of choices. In an instant, almost all of that is taken from her. Caught between life and death, between a happy past and an unknowable future, Mia spends one critical day contemplating the only decision she has left. It is the most important decision she'll ever make.
Simultaneously tragic and hopeful, this is a romantic, riveting, and ultimately uplifting story about memory, music, living, dying, loving.
I was quite surprised when I found myself loving this book. I can't put my finger on the exact reason why. It may be because I have little to no confidence in contemporaries. And it may be because I was expecting a supposed tear-jerker that would have me with more eye-rolls than tears. And that, is why
If I Stay
is a complete, and utterly pleasant surprise, that had me drowning in the sea of emotion.
I connected with the characters on a very deep level, within a span of around 200 pages. This goes to show good story telling, since the book lacks a solid plot. We meet eighteen-year-old Mia after an accident which killed her family. She finds herself facing her own barely alive body. She is, for the time, merely a ghost floating about, and in the end realizes that she has a decision to make.
Should she stay or should she go?
The story is for the most part about her memories from before the accident, the beautiful things that happened, the sad things that happened, the people she loved and who she was. A few days ago, if you had asked me if I would enjoy such a story, I would have said no without any thought. Why?
It would be boring, there's no plot!
But that was before I read this gem.
I don't think that simply talking about how the characters were great this and great that (like I normally do) would do any justice to the story. But I will tell you that they were indeed great. I will also tell you that they felt real - were real. However, I believe that the main part of the book is memories, specifically Mia's memories, and the value of life itself. It was refreshing, heartwarming and sorrowful.
Music is also a significant aspect of the novel. Mia plays the cello, and both her parents and boyfriend have a passion for music. Mia's parents were supportive, and made a big impression on me. As for Adam, Mia's boyfriend, he was equally supportive and lovable.
All the characters made a big impression on me. Be it Mia's little brother, or her best friend, Kim. That is what made the story even more heartbreaking - my undeniable connection to the characters.
This is the kind of book with messages hidden behind each page that will have you thinking. The kind of book about life and death. You know how sometimes you start crying, and you can't stop but something so good is happening and radiating happiness that you don't know whether to keep on crying or start smiling from ear to ear? And you just end up smiling between your teary eyed session?
This is that kind of emotional roller-coaster.
Gayle Forman is an award-winning author and journalist whose articles have appeared in such publications as Jane, Seventeen, Glamour, Elle, and The New York Times Magazine, to name just a few. She lives in New York City with her husband and daughter.
Find Author: